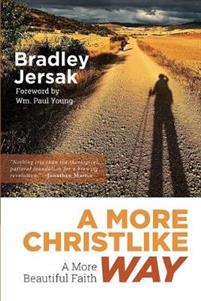 A More Christlike Way
This sequel to a «More Christlike God», is a book about Jesus Christ. In «A More Christlike Way», Jersak lays out how Jesus Christ of Nazareth, in his fully human nature, forged the path for a new and true humanity. We'll call it the Jesus Way.
This is literally crucial. When referring to the Jesus Way, we're describing the life and faith of a man–the Jesus of the four Gospels–whose earthly sojourn embodied complete surrender to and trust in the God he called his Abba (Papa).
Knowing that our subject matter is «the man Christ Jesus» matters greatly because herein, we'll make no grandiose claims for any church or any individual disciple, alive or departed. Christianity's infamy is that our way and our faith have not been very Christlike.
Observers attempting to retrace the Jesus Way from the path walked by those who identify as Christian would become hopelessly lost. They would stumble over all manner of obstacles to our beautiful faith. Jesus alone created the Jesus Way and walked it perfectly.